Steelers 23, Bengals 20
Did anyone tell the teams that fans needed some time to ease into the stress of the season? Not sure I am even calmed down yet. Grateful for the will to win that this team has.
Game notes:
Check out the seven defensive sacks!
From Mike Prisuta: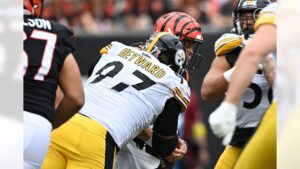 Mike Tomlin entered the season expecting dominance from his defense.
He got it for openers against the Bengals.
Cincinnati's first two snaps resulted in a sack of quarterback Joe Burrow by defensive tackle Cam Heyward and an interception and 31-yard return for a touchdown by free safety Minkah Fitzpatrick.
Before the first quarter ended, Heyward added a fumble recovery and outside linebacker Alex Highsmith collected two of the Steelers' three sacks.
Before the second quarter was two minutes old, outside linebacker T.J. Watt came up with the Steelers' second interception.
And before the first half concluded, cornerback Cam Sutton registered the Steelers' third interception of Burrow.
The Steelers kept defending through the final seconds of regulation and found just enough offense in what became a 23-20 overtime victory this afternoon at Paycor Stadium.
Kicker Chris Boswell won it with a 53-yard field goal on the final play of overtime.
97: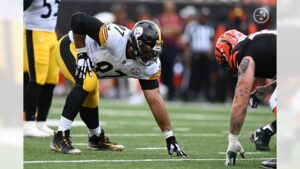 Cam was considered for Steelers Player of the Week honors with 2 tackles, a sack, 3 hits on the quarterback, and a recovery of a fumble. The honor went to Minkah Fitzpatrick who saved the game by blocking the Bengals extra point to send the game to overtime.
Listen to Cam's presser courtesy of the Steelers.
Thoughts and prayers go out to all the injured for safe healing.