The pads are ON!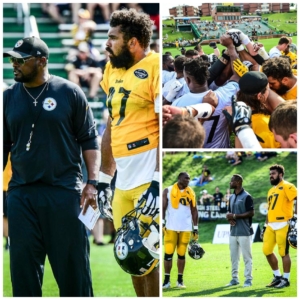 From Steelers.com:
The Steelers put the pads on for the first time and they knew what to do with them without any coaxing from their head coach.
"I didn't ask for that, I expected that," Mike Tomlin said of what he characterized late this afternoon as "really good, spirited work" at Saint Vincent College.
"An opportunity to play football, these guys love to play," Tomlin said.
How did Cam feel:
"It feels like I've been on vacation too long. I feel like I want to get hit a little bit more because I feel like everybody owes me a little bit and needs to pick on me."
Final score of the day:
The defense won "Seven Shots," 4-3
Fan photos:
We love to post fan photos. Scott Juba sent some good shots of 97:
View HERE.