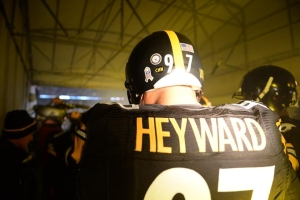 From Bob Labriola, Steelers.com:
With Troy, Ike, and Brett gone now, too, it's time for the next generation to assume control.
Ready or not, here it comes:
* Within days early in 2012, following a 2011 NFL season that ended for the Steelers with an overtime loss in Denver in the Wild Card Round, the team lost James Farrior, Aaron Smith, Hines Ward, and Chris Hoke. One calendar year later, it was Casey Hampton. One year after that, it was Brett Keisel, Troy Polamalu, and Ike Taylor.
* That's a lot of talent, a lot of leadership, a lot of Super Bowl rings to be subtracted from a depth chart and a locker room within a relatively short time.
OK, Maurkice Pouncey and Cam Heyward. It's your turn. It's your team.
* Granted, it's still Ben Roethlisberger's team in the way that it always is in the case of a franchise quarterback, and it's still Mike Tomlin's team as is always the case with the head coach. That's different. That's always going to be different. But there's another level of interaction in a locker room, and that was where guys such as Jerome Bettis and James Farrior and Casey Hampton and Ike Taylor did a lot of good work for a lot of years.
* With this new generation, it's best it starts with the alphas. With this group, among the younger generation, that means it starts with Pouncey and Heyward.