Titans, 13, Steelers 19
From Steelers.com:
Wide receiver Diontae Johnson passed 1,000 yards receiving on the season, quarterback Ben Roethlisberger passed Phillip Rivers for fifth in NFL history in passing yards and outside linebacker T.J. Watt passed James Harrison for the franchise single-season sacks record.
Most importantly, the Steelers found a way to get past the Titans, 19-13, this afternoon at Heinz Field.
The defense pitched a shutout in the second half and came up with three turnovers in the final two quarters.
The victory was preserved when cornerback Joe Haden tackled wide receiver Nick Westbrook-Ikhine just shy of the line to gain on fourth-and-7 from the Steelers' 16-yard line with 34 seconds left in regulation.
The Steelers improved to 7-6-1.
The Titans fell to 9-5.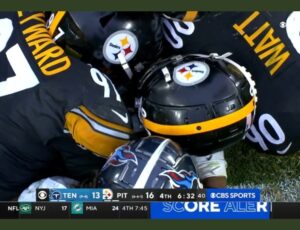 The Pittsburgh Steelers' 19-13 victory over the Tennessee Titans that unfolded Sunday afternoon at Heinz Field, will go in the books as the 40th fourth-quarter comeback of Ben Roethlisberger's career.
Sure, Roethlisberger had a hand in a win that kept the Steelers playoff hopes alive, but it was the play of the defense that overshadowed everything else.
The Steelers forced four turnovers, including three on successive drives in the second half, and Joe Haden's fourth-down stop at the 10 in the waning moments sealed the comeback win over the Titans.
Next Up:
The Steelers face the KC Chiefs next Sunday.