Packers, 28, Steelers 31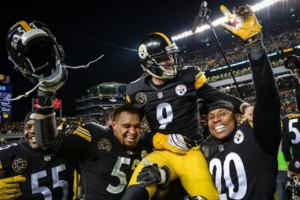 Once again, Chris Boswell gets the 'W'! With the game tied, and no time on the clock, Boswell hit a 53-yard field goal to send the Steelers to 9-2.
From Teresa Varley, Steelers.com:
"It's a hard kick," said Boswell. "The wind was pushing right to left. You aim a little far right and expect it to move a little bit."
Brown had a monster game with 10 receptions for 169 yards and two touchdowns. Martavis Bryant had four receptions for 40 yards and a touchdown, while Le'Veon Bell had 12 receptions for 88 yards, and 20 carries for 95 yards.
The defense came up with some hugh plays, including two sacks by Cameron Heyward, who now has a career-high nine for the season.
"We preserved in the face of adversity," said Coach Mike Tomlin. "We didn't blink. We stayed together and made the necessary plays to win.
Tidbits from Cam's post game interview: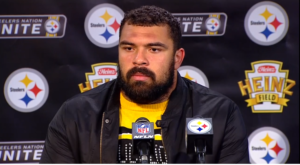 Not ideal, the way we played. We'll take the win.
We made the plays when we needed to, especially on offense and special teams.
Listen HERE.
Stats that stand out:
Cam had six tackles, two sacks, and three total hits on the quarterback. He was considered for Player of the Week honors.
See why HERE.
More on 97:
Cam Heyward. Heart and soul of that defense. –  Alex Kozora
Cam is a beast out there! The momentum started with his monster play ??? #camheyward Go Steelers! #steelers. – @steelersrfam
Cam had 2 sacks and three QB hits tonight. Leads the team in sacks with 9 on the year. – @Steel_Curtain4
Great read:
Cameron Heyward Continues To Strengthen Bid For Pro Bowl– from Matthew Marczi.
From the article: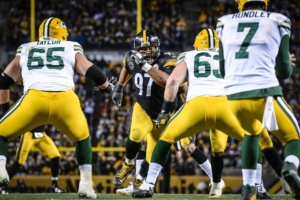 …go vote for Cameron Heyward in the Pro Bowl voting. He deserves it. He's earned it. He said himself that it's something he would appreciate. He is putting up the numbers. If he is unable to make it in the voting this year, then he never will. He is playing the best football of his career, and some of the best in the entire NFL.
Reminder to VOTE:
Please get your Pro Bowl votes in for Cam and his teammates. We realize the goal is to be unavailable due to the Super Bowl, but it is a major honor to be selected to the Pro Bowl and something Cam is striving for this season.
Help him out HERE.
: