Steelers 13, Jets 20
Steelers Defensive end Cam Heyward talks about the defense not getting enough turnovers, not making big plays, and this loss could come back to bite them.
Watch Cam's post game interview HERE.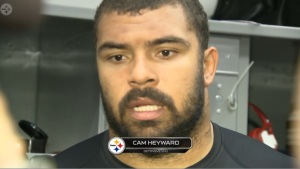 Cam had six tackles, including a couple on runs right around the line of scrimmage, and a sack. He was selected as the Steelers Digest Player of the Week.
Heyward also had what looked like a fumble recovery, but the officials ruled Jets QB Michael Vick down. Coach Tomlin challenged the call, but the ruling was upheld.
"I thought we had a fumble and clear recovery, but evidently I was wrong."– Coach Tomlin.
Read more on the game from Bob Labriola, Steelers.com.