Cameron Heyward is the Steelers' Walter Payton Man of the Year winner.
"Cam is a guy that embraces all this game and business has to offer, and the many challenges that it presents."He works off the field the way he works on the field. I have seen him grow and develop as a man and person in the same ways I have seen him grow and develop as a player. He just has a respect for the moments and the opportunities to grow and get better. He shares that growth with his teammates. He is the quintessential Steelers player and that honor is well deserved." – Coach Tomlin
From Teresa Varley, Steelers.c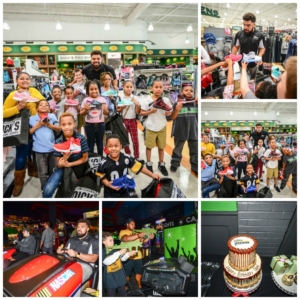 om:
Giving back. It's something Cameron Heyward never had to be told to do, but rather something he has always wanted to do because it was in his heart. It's something he is passionate about, and he is tireless in his efforts, championing his own community outreach, while also never saying no when asked by others to support community events and causes.
While he doesn't do anything for recognition, it's hard not to notice the work he does, and it comes as no surprise that he is the Steelers nominee for the Walter Payton NFL Man of the Year, the second time in his career he has been selected.
"I have always prided myself in giving back to the community," said Heyward. "The Walter Payton Award is the biggest award when giving back to the community. Walter Payton was a heck of a man, on and off the field."
Every NFL team names a Man of the Year winner, and they are all eligible to be the NFL's Walter Payton Man of the Year, presented by Nationwide. Three finalists will be selected and the winner announced the night before Super Bowl LII during the NFL Honors awards show.
The award recognizes a player's off-the-field community service, as well as his playing excellence. And Heyward, who will wear a special decal on his helmet for the rest of the season designating him as a nominee for the award, definitely is a standout in both areas.
He established the Heyward House Foundation in 2015 to benefit many causes, including Southeastern Brain Tumor Foundation, Boys & Girls Club of Western Pa., DKMS, KidsVoice, Smyrna Stars Basketball Club and after school fitness programs.
He kicked the foundation off with a birthday party, not for himself, but for those served by KidsVoice, an agency that represents abused and neglected kids who are in foster or group homes. He has made the birthday celebration an annual event, and supplements it with the Cameron Heyward Birthday Club where he provides gift cards with a personal birthday card to over 200 foster children per year, oftentimes the only gift the kids receive.
"These are kids who are coming from group homes, from foster homes that don't get remembered on their birthday," said Scott Hollander, Executive Director of KidsVoice. "For Cam, his family, his teammates to come out and make them feel like the most special kids in Steelers Nation and host a birthday party for all of them, it's phenomenal."
It doesn't stop there. He provides those who are a part of KidsVoice with school backpacks, shoes and supplies to nearly 50 children, takes them shopping for winter coat and boots, has them as his guest at Steelers Training Camp and has established a city-wide matching donation program for November and December.
"When he got here he saw some of the older players give back," said assistant head coach John Mitchell. "The smart ones pick up on that. Cam is tireless. The money, the time he gives, you can't say enough good things about the guy. I love being around the guy. Not because he is a good football player, but because he is a good person."
Heyward also has taken the Boy & Girls Club of Western Pennsylvania under his wing. His late father, Craig Heyward, went to his local Boys & Girls Club growing up, and Heyward knew it was an organization he had to align with. His foundation supports their "Triple Play" program, which emphasizes academic performance and physical fitness, as well as provides leadership and mentorship to the children. Heyward is also running a pledge campaign, Sacks for Kids, to benefit them.
"My parent taught me to give back," said Heyward. "Whether it was through my dad, donating time, visiting hospitals, or my mom teaching me to give back to the less fortunate. We always tried to give back. My parents really instilled that in me."
This year Heyward joined forces with Blessings in a Backpack, providing backpacks filled with healthy food each weekend of the school year to children on the free or reduced government lunch programs.
He is a force behind a t-shirt campaign to promote breast cancer awareness, and the 'Pittsburgh is Stronger than Cancer,' and 'Crush Cancer,' shirts raise funds to help with research and aid families dealing with the hardships treatment can create. His father died of brain cancer, and it's something that touches him deeply.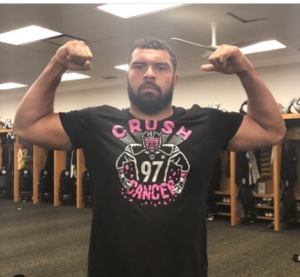 He partnered with UPMC on a living donor awareness and sign up campaign this year. The Heyward House also supports local youth football teams, allowing kids from financially challenged backgrounds to play. He partnered with a local furniture store to completely refurnish a home of a local woman who has been struck with housing issues and financial hardships.
This year he is helping lead an initiative with local police officers in an effort to work together to make an impact in and around Pittsburgh. The first project was a Thanksgiving turkey distribution, with his teammates and police officers working together to distribute to local families.
Later this month he will host the Cystic Fibrosis 65 Roses Sports Auction, and will launch an asthma awareness campaign, something he battles himself and wants to help children with severe asthma.
"You never know how you are going to affect kid's lives, but the more opportunities you provide, the more you get involved in, you can really hit home," said Heyward. "You never know what someone's situation is, but if you continue to care and give back, you can change a life."
While community involvement is the main driving force for the award, on-field contributions are also taken into account, and Heyward's are many, as he is having a Pro Bowl season. Heyward leads the Steelers with nine sacks, a career high, and has had multiple sacks in three games. He has 257 career tackles and 34 sacks, the third-most sacks by a Steelers' defensive lineman since sacks became an official stat in 1982.
"Cam came from a football family. He understood what his dad, Craig Heyward, did as a college player at Pitt and as a professional football player," said assistant head coach John Mitchell. "He has been around football. He knows what it takes to be a good football player. He knows what hard work is. He isn't selfish. The thing I like about Cam since he has been here, he came with an attitude of whatever it takes I am going to be a good football player.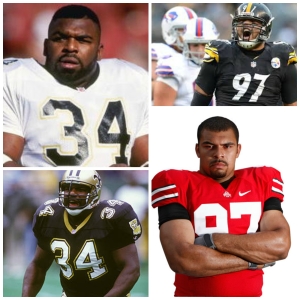 "I can remember sitting in the meeting room one day when he first got here and telling him I have Aaron Smith, Brett Keisel and Casey Hampton, those guys are my playmakers. You other guys better be worried about playing on special teams. I think that got under his skin. He walked out of here thinking I can show him I can be a good football player, which I knew he would be. But I wanted him to go through the pain just like the rest of the players."
Heyward went through a lot of pain last year when his season ended in mid-November because of a torn pectoral injury. He fought back, never taking a day off in the offseason, and came back this year stronger than ever.
"Cam is a guy that embraces all this game and business has to offer, and the many challenges that it presents," said Coach Mike Tomlin. "He works off the field the way he works on the field. I have seen him grow and develop as a man and person in the same ways I have seen him grow and develop as a player. He just has a respect for the moments and the opportunities to grow and get better. He shares that growth with his teammates. He is the quintessential Steelers player and that honor is well deserved."