Browns 14, Steelers 26
Heinz Field was electric tonight for possibly Ben Roethlisberger's last home game.
The Defense had NINE sacks and kept Baker Mayfield rattled all night.
97: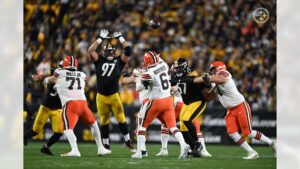 Cam had four tackles, a sack, and two passes batted at the line of scrimmage. He was considered for Player of the Week Honors. The award went to TJ Watt for his FOUR sack performance.
From Ray Fittipaldo:
Defensive line: Cam Heyward and Henry Mondeaux had sacks, but the most important turn of events was holding Nick Chubb to 58 yards on 12 carries. The much-maligned run defense held the Browns to 93 rushing yards after the previous eight opponents all rushed for 100 or more, including three teams that rushed for more than 2o0.
Grade: A
We will have more on the game tomorrow so stay tuned!
Thank you to our favorite number, 7 who has been a leader on the field for 18 seasons! The season is not over and we look forward to the big game against Baltimore next week and more Big Ben magic!
You say there's a chance?
Yep! If the Steelers win next week, the Jags beat the Colts AND the Raiders and Chargers do not tie, we are in the playoffs! #Believe