We would like to wish all the mothers, grandmothers and loved ones a very Happy Mother's Day!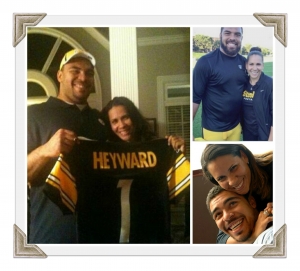 Cam recently spoke with Lynne Hayes Freeland, KDKA about his special mother, Charlotte:
Charlotte Heyward is the executive director of Heyward House, a charity founded by her son, Pittsburgh Steelers defensive end Cam Heyward.
She takes this responsibility seriously. But Charlotte Heyward has another job, one she says will always be her most important one: being a mom.
"She did all the work. Raising three sons, after my father passed away was very hard," Cam Heyward gushed about his mom.
Cam Heyward is the oldest of three brothers. His mother was forced to raise them on her own, after her husband, Pitt star Ironhead Craig Heyward died of a rare cancer at the age of 39.
"We've had some challenges and some hardships, but we made it through," she said. "God never gives you more than you can handle."
Cam was still in high school when his father died. He had to make tough decisions about where to go college. As a student with a goal of going pro, he always thought his dad would help him maneuver the landscape.
"I really appreciated her the most when I had to go off to all these colleges and decide what school I was going to go to," he said. "She was my right hand man. She knew what to ask. She knew what to look for."
Charlotte Heyward has lived her life surrounded by athletes. Cam playing for the Steelers, middle son Corey plays basketball for Georgia Tech, and youngest son Connor plays high school football in Georgia. She has always been the supportive mom, in the stands and behind the scenes for her sons.
"It could be the smallest thing. It could be a PTA meeting or a teacher meeting or a practice or a game. She was always there. She always wanted the best for me and she expected the best for me," Cam said.
"It's hard to be a mom of an athlete, because someone always has something to say," she explained. "I get very defensive when they're talking about my babies and they are still my babies."
Last November, Cam Heyward became a dad himself. He says he couldn't have a better role model.Review Android Smartphone
"Her favorite line is 'patience is a virtue' and that always stuck with me through everything," he said. "And now that I'm a father, that applies too."
Charlotte Heyward has always been a cheerleader for her sons. She's proud of Cam and the man and father he has become. She sees glimpses of Ironhead in Cam, but growing up, he was his own person.
"He was a gentle giant. Had a huge heart, very compassionate. When he was first playing sports, they thought he was too gentle, because he would play rough, then help the other person up" she said.
It's clear where the gentleness comes from.
"I wouldn't be where I was without her. She is the backbone. My dad does get a lot of credit for what he did for our family, but she is the reason," Cam said.