Week 8: Steelers 20, Lions 15
Quick recap: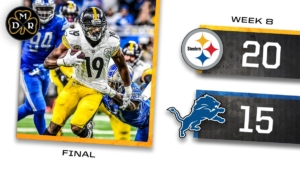 A game where JuJu finds out he doesn't need a bike to fly, the defense takes a huge stand and Heyward ties a Steelers record.
From Mike Prisuta, Steelers.com:
The red zone offense had been a subject of much consternation and debate prior to the Steelers' return to Ford Field, but that didn't mean the red zone defense had been passing muster.
It had not.
Head coach Mike Tomlin had let the defense know that 10 touchdowns allowed in 16 opponents' red zone possessions through seven games wasn't cutting it.
The defense let Tomlin know during Sunday night's 20-15 victory over the Lions that the message had been received.
"I felt like we did a good job of responding," Davis assessed.
The response of the defense was to hold the Lions to zero touchdowns in five red zone possessions.
Three times Detroit settled for three points.
Twice the Lions turned the ball over on downs, including once in the third quarter after they'd achieved a second-and-goal from the Steelers' 1-yard line.
"Coach challenged us this week," defensive end Cam Heyward said. "We had been giving it up in the red zone a little bit, especially our goal line (defense).
"We got that stopped and didn't look back."
The Lions tried five runs in the Steelers' red zone and gained 4 yards. Quarterback Matthew Stafford completed two of 11 passes in the red zone for 6 yards and was sacked once.
How'd that happen?
The Steelers had their theories.
Heyward: "Technique, knowing what you gotta do, penetration and just heart."


Fun quotes:
"I love this defense. It's so much fun to watch." – Ben.
On Juju: The moments not too big for him. You appreciate the young energy he brings."- Cam
"Congratulations Cam!" – Brett Keisel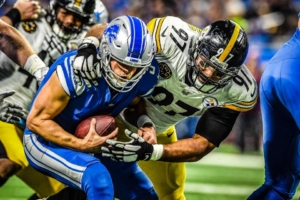 (Cameron Heyward has tied Brett Keisel for the 3rd-most sacks by a #Steelers d-lineman since sacks became an official stat in 1982.)
Missed the big stands and plays? Or, just want to relive it? The Steelers have you covered HERE.
Getting the A for the W:
Defensive line
Two big goal-line stands did it for the Steelers as Javon Hargrave on third down and Tyson Alualu on fourth down made big stops. The Lions, who haven't had a 100-rusher in 58 games, didn't look like they would end that streak after rushing for just 26 yards and not having a run longer than 8 yards in the first half. They finished with 71 yards on 22 carries. Cam Heyward and Alualu had the only sacks.
Grade: A (Gerry Dulac, Pittsburgh Post Gazette)
Photo credits: Steelers
.