Steelers 27, Titans 24
Yep, that means our Steelers are SIX & Ohhhh!
Cam on being 6-0: 'I don't know what it says. We're 6-0. There's a LOT we've got to improve on. … We're guaranteed 16 games. We've got 10 to make it right.'
From Ray Fittipaldo, PPG:
Defensive line: Cam Heyward didn't smile once on his postgame Zoom call. He was mad the defense didn't finish the game as well as it started it. But he and his linemates accomplished their goal of keeping Derrick Henry from controlling the game. The Steelers held Henry to 75 rushing yards, and he was a non-factor in the first half when the Steelers jumped out to their big lead. Stephon Tuitt was a force in the run defense and had two quarterback hits on Ryan Tannehill.
Grade: B
More on the game from Mike Prisuta: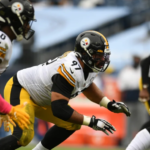 A blowout became a nail-biter that wasn't decided until the final hold-your-breath seconds.
Titans kicker Stephen Gostkowski missed wide right on a 45-yard field goal attempt with 14 seconds left in the fourth quarter and the Steelers held on to beat Tennessee, 27-24, on Sunday afternoon in Nashville.
The Steelers improved to 6-0.
"All we can say is we're 6-0," defensive tackle Cam Heyward offered. "It's a good win but there's a lot we have to improve on going forward."
Game Zone: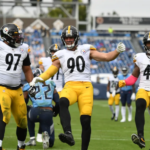 Catch some highlights courtesy of Steelers.com.
Listen to Cam and teammates post game reactions.