Week 2: Raiders 26, Steelers 17
"I'm not gonna say London Bridge is falling down, but we've gotta grow from this"- Cam, following the loss.
From Ray Fittipaldo: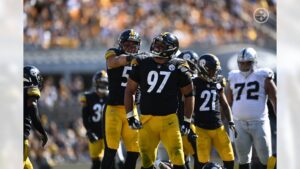 It was a gusty effort up front after Tyson Alualu exited the game early with a fractured ankle. Cam Heyward did his best to keep the line a factor, finishing with seven tackles, including one for a loss and one ball batted down. With Alualu out for the year, the Steelers are going to need a lot more from the likes of Chris Wormley, Isaiah Buggs and Isiahh Loudermilk.
Cam was considered again for Steelers Digest Player of the Week, but the honors went to Najee Harris.
Listen to more from 97 courtesy of the Steelers.