Garth Brooks and his lovely wife, Trisha Yearwood were in Pittsburgh last weekend to perform six shows. It was Garth's birthday weekend and he purposely scheduled the concert in Pittsburgh to celebrate his birthday.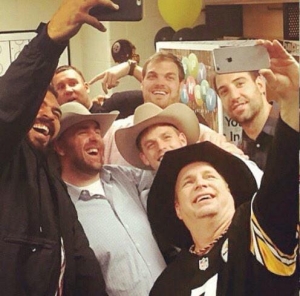 Who doesn't want a selfie with Garth Brooks?
Thank you so much to Cam's wife, Allie for the photo!
Little did Garth know, his wife had a special surprise planned! She arranged to bring a few of the Black 'N Gold on stage to wish her husband Happy Birthday! Cam, Coach Tomlin, Brett Keisel, Heath Miller and Ben Roethlisberger (to name a few) took the stage to wish Garth a Happy Birthday…and the stuck around to perform a bit, much to the crowd's delight.
The photos below are courtesy of Matt Spaeth and Kelly Keck.