Week 9: Steelers 20, Colts 17
Chris Boswell nailed a 33- yard field goal with no time left on the clock to take his team to 7-2. This was the first and only lead the Steelers had during the game.
From Teresa Varley, Steelers.com:
It wasn't easy, but when you look at the win-loss column, that is the only thing that matters in the end. And the Steelers left Indianapolis with a 20-17 win, improving their record to 7-2 on the season.
Ben Roethlisberger engineered a game-winning, 10-play, 70-yard drive that culminated in a Chris Boswell 33-yard field goal with no time left on the clock. Roethlisberger finished the game completing 19 of 31 passes for 236 yards and two touchdown passes, while Le'Veon Bell rushed for 80 yards on 26 carries.
The Steelers had 17 unanswered points in the second half, thanks to a defense that settled down and hounded the Colts, and an offense that got on track.
"We were tested and tested in a lot of ways," said Coach Mike Tomlin. "Game circumstances does that to you. The guys didn't blink, they are to be given credit for that. We didn't play great today, that is part of the reason we were in some of those circumstances. We have to be better on offense, we have to tackle better on defense. We are fortunate to win this game giving up those two long touchdown passes.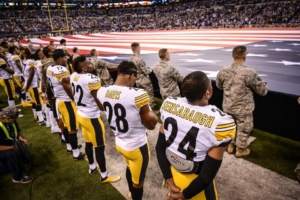 "There is a lot of negativity to talk about, but we will talk about that negativity with a win. That is my preference. Guys delivered in the critical moments and that is exciting."
Watch a few highlights from the game.
Social Media Chatter :