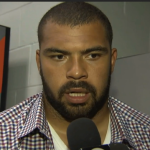 Steelers, 16, NYG 20:
"When we didn't shoot ourselves in the foot, we made some good strides.  I gotta learn from this….gotta continue to get better."– Cam, from his post-game interview.
Listen to more from his post-game interview HERE.
Cam and the first team defense did not play long, but #97 had one tackle.
Coach Tomlin on the loss:
"Not enough to win, and that was our No. 1 goal," said Tomlin afterward when asked if he got what he wanted from his players. "I'm less concerned about style points and more concerned about the bottom line. My emphasis in that regard was geared toward winning. We didn't get the job done, so even if it was above the line, it's going to have to be better."
Read more on the game from Bob Labriola, Steelers.com.
The Steelers next preseason game is August 16 against the Buffalo Bills.