From Ray Fittipaldo, Pittsburgh Post-Gazette: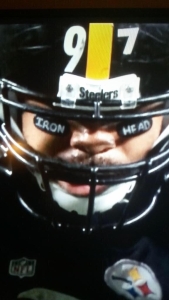 'In a month when breast cancer is honored, I think every type of cancer should be honored as well'– Cam
Steelers defensive end Cameron Heyward has a fine appeal hearing on Tuesday and said he would like to explain to NFL Commissioner Roger Goodell why he is violating the league's uniform policy.
Heyward was fined $5,787 last week for wearing a personal message on his uniform. Heyward wore eye black with the words "IRON HEAD" on them in honor of his late father, Craig "Ironhead" Heyward, who died of a brain tumor in 2006.
The fine escalates to $11,576 for the second offense and stays at that penalty for the remainder of the season.
"A lot of people are struggling with cancer and that's what my message was," Heyward said Monday afternoon. "It's not just about me and my love for my father. There are a lot of people out there struggling. In a month when breast cancer is honored I think every type of cancer should be honored as well."
If Heyward continues to wear the eye black for the rest of the season the NFL will collect more than $100,000 from him. Heyward indicated he'd continue to wear it for the rest of this month, which also is breast cancer awareness month in the NFL, and then re-evaluate after that.
"I'm not trying to step on anyone's toes or upset the league office, but I want to continue to do it at least for this month," Heyward said. "I would love to be able to [do it] this month and make an awareness for all types of cancer. I'm very sincere when I say I'm not trying to be someone who is a rebel against the cause or someone who is against everybody. I care about this league, but I also care about people who are struggling. I understand the struggles they go through. My dad went through that struggle, and I saw it every day."
The money the NFL collects through fines goes to NFL charities. Heyward said he'd like to be able to earmark his fine money to a good cause.
Veteran cornerback William Gay, who lost his mother to domestic violence, suggested the league and its players have another month during the season to honor those who suffered from diseases other than breast cancer.
"There needs to be more awareness," he said. "We can beat around the bush, but my dad suffered from it, and he played in this league for 11 years. This has to be addressed.
"Will brought up a great idea where there is a month when everyone celebrates lost ones. Will Gay is very big on domestic violence. He's been a great advocate for it. It'd be great for the NFL and a lot of players to get involved that way to work collectively, not work against each other."