Certainly not the ending we wanted, but I am still so proud of our Steelers. They fought through an extremely tough schedule and numerous injuries to key players. They never gave up, week after week, game after game.
Steelers Nation is very lucky to have a talented and classy team.
We will have more on the season soon.
For now, let's hear from the players: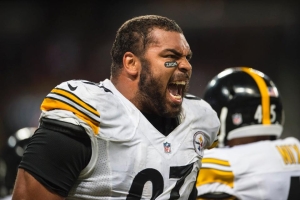 I know it stinks. I just wanted to thank my teammates, coaches, organization, and all of Steelers Nation for this year.- Cam
Hate that we fell short this year! Only thing left to do is grind harder & make it happen next year! Thanks for the support and well wishes!- Arthur Moats
I couldn't be more proud of this team I'm a part of! Mentally tough guys that don't seek comfort off of other people's failures! #MenOfSteel– Bruce Gradkowski
Sorry we couldn't finish you fans deserve that. We are going to put that work in. I put my life on that!!!! – Stephon Tuitt
I still love this team and I love #SteelersNation . Thank you for everything this year. Best fans in the world– Chris Boswell
Thank you #SteelerNation best fans in the world! God bless you all! – Chris Hubbard