From Teresa Varley, Steelers.com: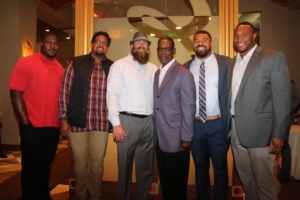 Whether it's with his teammates in the locker room by being someone they can talk to, showing leadership and giving guidance to younger players, or on the field where he never hesitates sharing tips and tricks of the trade to help others improve, he is always giving.
"Cam came from a football family. He understood what his dad, Craig Heyward, did as a college player at Pitt and as a professional football player," said assistant head coach John Mitchell. "He has been around football. He knows what it takes to be a good football player. He knows what hard work is. He isn't selfish. The thing I like about Cam since he has been here, he came with an attitude of whatever it takes I am going to be a good football player."
Don't think for a minute it stops when he walks out of the UPMC Rooney Sports Complex each day. Because you would be dead wrong. It's when he is away from football, away from practice and the field, that Heyward gives the most.
"When he got here he saw some of the older players give back," said Mitchell. "The smart ones pick up on that. Cam is tireless. The money, the time he gives, you can't say enough good things about the guy. I love being around the guy. Not because he is a good football player, but because he is a good person."
That was on display on Monday night when he hosted his third annual "Steel and Steaks," at Eddie Merlots Steakhouse, benefiting the programs run by the Heyward House Foundation.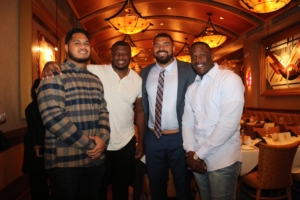 "We had to change the venue this year so more people could attend," said Heyward. "But the more the merrier. That just means we are a growing foundation that people are responding to. We are very happy and it means we can touch more people."
Heyward's caring attitude, his passion for helping others, benefits so many, in particular KidsVoice, the Boys & Girls Club of Western Pennsylvania, the American Cancer Society and Blessings in a Backpack, all organizations Heyward's foundation works with.
"It means a lot to get the support," said Heyward. "These children don't always get the things they need, it helps people battling cancer, so many things. Everybody has a hand in this. I am very blessed to use my foundation to do that. I am proud of everything we accomplished and keep doing more."
An example of him doing more takes place every year around his birthday. Heyward has a big celebration, but it's never for him. It's always for others. This past year he took kids from the Boys & Girls Club shopping for new tennis shoes, then hosted KidsVoice at a fun-filled party at Dave & Busters.
"These are kids who are coming from group homes, from foster homes that don't get remembered on their birthday," said Scott Hollander, Executive Director of KidsVoice. "For Cam, his family, his teammates to come out and make them feel like the most special kids in Steelers Nation and host a birthday party for all of them, it's phenomenal."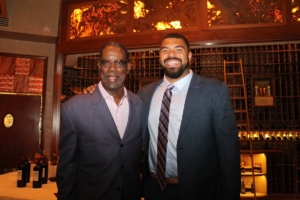 Heyward, who was supported at the event by a fantastic turnout of his teammates, doesn't do any of it for pats on the back or credit. He does it to make a difference.
"You never know how you are going to affect kid's lives, but the more opportunities you provide, the more you get involved in, you can really hit home," said Heyward. "You never know what someone's situation is, but if you continue to care and give back, you can change a life."
Photos: Teresa Varley