The 2015 Pro Bowl is Fantasy Football For Real
Your star quarterback could face his explosive linebacker teammate. Your cornerback could go up against your dynamic wide receiver. Kicking off Super Bowl Week in Arizona, the 2015 Pro Bowl pits the NFL's top talent against each other, regardless of conference. It's the Unconferenced match-ups you thought only happened in your dreams. This is Pro Bowl: Fantasy Football For Real.
YOUR VOTE COUNTS! So, let's get our votes in for 97 and his teammates.
Voting is easy, free and UNLIMITED! Vote NOW, Vote LATER, vote OFTEN!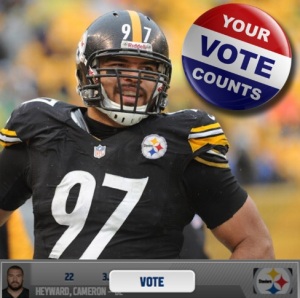 Ready to vote? Just click on the word VOTE in the photo and it will take you directly to the ballot.
Cam is listed under Defense, and then Defensive Ends.
You can sort by team to see all of the players eligible for the Pro Bowl-let's vote 'em all in!
If the link does not work, click HERE.
YOUR VOTE COUNTS!
Thank you to Matthew Solo for the awesome Pro Bowl design!