The second week of OTA's are underway. Heyward and teammates are working hard to prepare for the upcoming season.
Watch as 97 hits the sled:
https://vine.co/v/ehTvqL9P536
Talkin' D Line:
Cam and Stephon Tuitt spoke with Steelers.com this week about the progress of the D Line: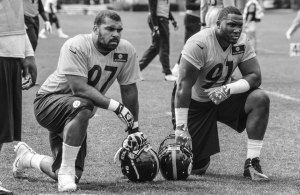 Cam, on his expectations of Tuitt:
"I expect a lot. I expect him to hold down his side. I'm expecting every year for him to get better."
Tuitt, on having Brett Keisel as a mentor:
"Brett Keisel taught me a lot in one year. I can't imagine if he was  here one more year, how much I would have learned even more. I got the confidence now to do the stuff I learned from him being a great mentor."
Tuitt talks about Cam as a leader:
"Everybody knows what Cam can do, and I'm definitely gonna try and ricochet my game off of him…also give him some stuff of mine. We are gonna play off of each other."
Listen HERE.
What is Cam thinking about his contract situation?
He stated he is letting his agents do the talking, and he will "sit back and play football."