Steelers 21, Browns 18
"A great win for us, an AFC North road game in week one versus a worthy and hostile opponent. We're excited about getting the job done. We've got some work to do. It's great to do that work with a win in your back pocket.- Coach Tomlin on the win.
The defense had a big day with 7 sacks on Cleveland's QB, DeShone Kizer, along with an interception. Special teams also recovered a block for the first TD of the game.
 Cam on DeShone Kizer: "He had some good moxie." – (courtesy of Aditi Kinkhabwala).
Read more on the game HERE.
97 is BAACCKK: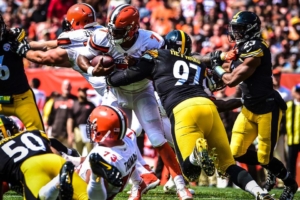 Cam had three tackles and a sack and was considered for Steelers Player of the Week. The honors went to rookie T.J. Watt.
Check out the sack, courtesy of Blitzburgh:
https://twitter.com/Steel_Curtain4/status/906929226707869696
Thoughts and prayers to Stephon Tuitt who left the game with an injury.
View game photos HERE.