The Steelers held their annual Kickoff Luncheon today.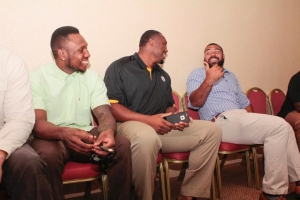 From Teresa Varley, Steelers.com:
The regular season starts just one week from today, but fans at the annual Steelers Kickoff Luncheon, held today at the Wyndham Grand Pittsburgh Downtown, were definitely ready for things to get rolling.
"It's a great time of year. Football is in the air," said Rooney. "We are looking forward to getting the season started. We have a challenging schedule so we will need your loud support at Heinz Field."
  Coach Mike Tomlin addressed the crowd, bringing the same energy and fire that he brings to the field to the ballroom.
"It's always exciting to stand before you. I know it's time to play football," said Tomlin. "We are excited. Our focus is very clear and simple, we desire to be world champions this year. We love and appreciate the support that you guys provide us. We look forward to doing it big, and doing it big in front of you guys at Heinz Field. We are really excited about getting this thing started here about seven days from today. We appreciate you guys, we look forward to entertaining you guys, now let's go get us a world championship."
View more photos HERE.
Cam on the last preseason game:
From Kris Lancaster, The Times:
Don't tell defensive end Cameron Heyward that Thursday's preseason finale against the Carolina Panthers at Heinz Field is meaningless. It's not.
Although Heyward is one of many veterans who will receive limited or no playing time in Thursday's game, it's important because for three players in his position group, it will be their last chance to nail down a spot on the final roster 53-man roster.
"It's a learning opportunity," Heyward said. "It's really a great opportunity for those guys, and we want to see what they're capable of, being able to trust in what they're going to do."
Heyward on the play of the defense:
From Ray Fititpaldo , Pittsburgh Post-Gazette:
The epidemic of big plays that plagued the Steelers defense the past two seasons and prompted many offseason changes has found no cure through the first month of the preseason. The Buffalo Bills, with an unresolved quarterback derby and injuries that kept their best offensive players on the sideline Saturday for a preseason game, gouged the Steelers starting defense for two big plays in the first six minutes of the game.
"We're a young defense and there will be mistakes, but it can't be 40-yard or 60-yard touchdowns," Heyward said. "Against the run and pass, we have to improve. We're not going to take anything for granted, or let it be an excuse that we're in cover-2. It doesn't matter what we're in. On any given play, if there is a mistake, there is another chance for another guy to make up for it. We didn't do that this past week."
The Steelers instituted the cover-2 looks into their defense at the beginning of training camp, although its principles were introduced in the classroom at organized team activities and minicamp in the spring.
Perhaps veteran linebacker James Harrison summed up the defensive struggles best, saying, "I think it's a combination of everything. It's players. It's calls. And the biggest thing is execution of the defense and beating the man in front of you."
The Steelers take on the Panthers tonight to wrap up preseason play.