Cam's cleats for this years 'My Cause, My Cleats':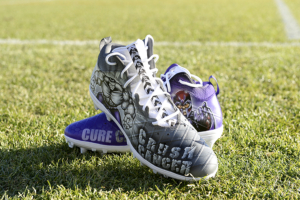 Cameron Heyward's cleats will represent the Heyward House Foundation, and be designed to bring cancer awareness. Heyward's father, former NFL running back Craig 'Ironhead' Heyward, died from brain cancer.
"This is not just representing my dad, but cancer in general," said Heyward. "I have gotten to know a lot of people that struggle with it. I just want them to understand I am going to fight that fight with you, be there for you, and raise enough awareness for it."
Heyward said the initiative is a popular one among the players, because while football is their job, it's not the only thing that is important in their lives by a longshot.
"We care about so much more than just football," said Heyward. "It's nice to have a time when we can raise awareness for things we care about it, and show that we care about things."
Read more from Teresa Varley and view Cam's teammates cleats HERE.