Brett Keisel hosted the annual 65 Roses Sports Auction tonight, but it was a bit different from previous years. This year he had a special co-host: friend and teammate, Cam Heyward!
The event benefits the Cystic Fibrosis Foundation.
"Cam is special to me. When my days as a Steeler are over I know it will be in good hands with Cam. Mike Schneck was the host for the event before me and he is the one that came to me. We were on special teams together and he is a great friend and asked me to take over. I am doing the same with Cam."– Keisel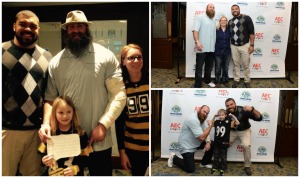 From Teresa Varley, Steelers.com:
Keisel and Heyward were the perfect tandem this year, greeting guests, signing autographs, along with teammates, for those in attendance and bringing smiles all around.
"It's an honor to be a part of it and continue on a great tradition," said Heyward. "It's a lot of fun. It's for a great cause and any way possible I can donate my time or get others involved I want to be a part of it. What better way than 65 Roses."
While the main goal of the event is always to raise funds for research in an effort to find a cure for the disease, Keisel and Heyward especially enjoyed spending time with kids that suffer from cystic fibrosis and bonding with them.
"When it comes to Brett and what he means to us at the Cystic Fibrosis Foundation, it's hard to find the words to share what he means and what he has done for us in raising the awareness for the fight against cystic fibrosis," said Pat Joseph, executive director of the Western Pennsylvania Chapter of Cystic Fibrosis. "He has been there every step along the way and been a phenomenal friend and a great spokesperson for us.
"Now having Cam part of it, they are a dynamic duo. Knowing what Cam does as an individual, and what he represents, another phenomenal person that represents that Steelers and really cares about what happens in the community in Western Pennsylvania. To have him on our team with Brett means everything. We appreciate Cam's leadership as he steps forward for this. It's just wonderful."
We will have more photos posted tomorrow!