From Teresa Varley, Steelers.com: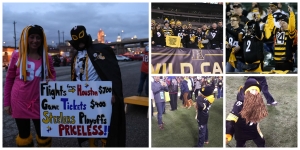 Steelers Nation stepped up once again, and the players felt the love.
It's something Steelers players have become accustomed to, but don't take for granted even for a second.
Whether they are home or away, near or far, winning or losing, the one thing they can always depend on is Steelers Nation will be right there with them.
And on Saturday night in Cincinnati, they were there and then some.
When the Steelers needed them most, with the game on the line in the closing minutes, the players felt their presence the strongest.
"We have the best fans. They travel so well. A road game never feels like a road game. It's like a home game. We never take them for granted. It took every one of them out there to support. To see those Terrible Towels waving near the end of the game, that's when you know you are winning the game." – Cam
Read more, and view photos from the Cincinnati takeover by Steelers Nation HERE.
Also, join Steelers Nation Unite for free today and enter for your chance to join the Steelers in Denver for the AFC Divisional Playoff game.
The VIP Road Warrior Trip Includes:
Two tickets to the AFC Divisional Playoff game against the Broncos
Round-trip airfare
Two-night stay in a luxury hotel
$500 Visa gift card