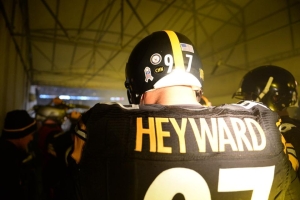 There has been a lot of positive chatter about 97 this offseason.
If you missed any news or articles, no worries…we got you covered! Catch up on the latest (and past) news HERE.
Highlights:
From 247Sports:
Ben Roethlisberger praises Cam Heyward's leadership:
"(Heyward) is a special player, special leader," Roethlisberger said during an appearance on the Cook and Poni Show on 93-7 The Fan in Pittsburgh on Monday. "You talk about defensive line here, all the way back to Kimo (von Oelhoffen), to Aaron Smith, to the guys that have been around, to Casey Hampton — leaders on this team that were tough, Steeler football players, and that's Cam. Great person, great teammate, great leader — I think he'll be great here for a long time.
From Will Graves:
Will wrote about the status of Heyward's contract:
Maybe, though Heyward is more invaluable than interchangeable. The 26-year-old is the longest-tenured defensive end on the team. He's also entering the option year of his rookie contract. While Heyward isn't getting ahead of himself given the always uncertain nature of the league, few teams hold onto their own like the Steelers. That's fine by Heyward, whose father Craig was a star running back in college at Pitt in the 1980s before a lengthy NFL career of his own.
Craig Heyward bounced around the league. His son has no such plans.
While some of his other teammates just rent home in Pittsburgh and live elsewhere, Heyward bought a house in the suburbs early in his career. Don't expect to see a "For Sale" sign up anytime soon, not with a defense to help rebuild and a Super Bowl to go chase.
"Obviously I have family connections and I would love to be here," Heyward said. "But I can't control that. All I can do is go play."
Good news for Heyward fans!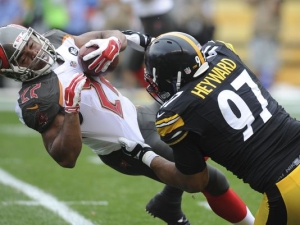 And, from Jeremy Fowler, ESPN:
How does Heyward, fresh off a 7.5-sack season and entering a contract year, feel about potentially getting more one-on-ones?
"I'm salivating," Heyward said. "I can't wait until the season starts."
Also, from Ed Bouchette, Pittsburgh Post Gazette:
On Cam's team leading sacks (7.5):
"I think I left some on the table. Some got taken away by penalties. I'm shooting for double digits. I expect that out of myself, and that means other guys have to step up, too. If I can eat, then everybody else can eat and vice versa.
"I expect more for myself; I'm not going to settle for 7½."
"I'm not going to hold myself back, I expect more. If I was just going to settle for getting 7½ again, then I'm in the wrong place."
 Jim Wexell did a nice Q & A with Heyward, which you can read HERE.