Cam had a busy, but exciting weekend…
To kick off the fun, he was thrilled to see his alma mater, The Ohio State University send so many players to the draft:
Congrats to @jbbigbear (Joey Bosa) watch out NFL!
The O State boys are at it again! I see you @EzekielElliott #back2back
Ohio State broke a record with 10 players selected in the first three rounds of the NFL draft Friday.
Next, he had the honor of announcing the Steelers third round draft pick: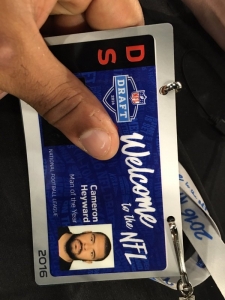 I'm at the NFL Draft. Who do I get to welcome to the STEELER family in the 3rd Rd? – Cam
I know NFL Network and ESPN did not show Cam's announcement of the selection (we had many, many emails from unhappy fans). So, if you missed it…no worries…we have you covered: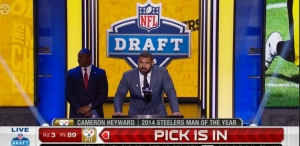 Click on the photo above to watch.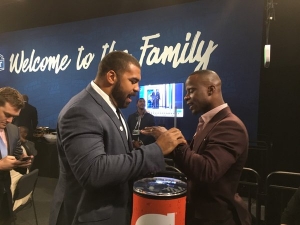 Thanks to Dave Dameshek for this photo of Cam with Ike Taylor.
The weekend was not over for Cam as he made an appearance at the Gander Mountain Opening in Monroeville on Saturday:
Not sure what was more of a rare sighting, triplet boys or pro football star Cam Heyward!
Photo: Gander Mountain
Hunter Mitlo was thrilled for an unexpected surprise: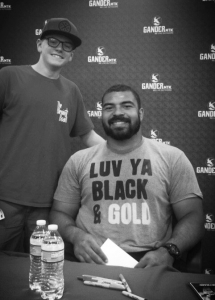 I got to meet Cam Heyward today! UN PLANNED
View many more photos HERE.