Congrats to the team! 8-0 for the FIRST time in history!
Cam addresses Steeler Nation after the win:
Social media chatter: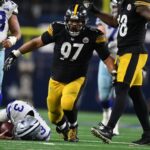 If y'all didn't know already, Cam Heyward  is a GOAT Steelers D Line candidate amongst the greatest lineage of DLinemen in the history of the NFL! – Trai Essex
Dats my Cam! #beast #impact97– Char Heyward
With the game on the line, Cam Heyward would not be denied! That was sheer force!!!! #HereWeGo  – Scott Juba
Check out this big man play by 97:
Now that our stress levels are better, how about some HIGHLIGHTS!
Read more on the awesome win!
Next up:
The Bengals