Cam and teammates checked in at Saint Vincent College yesterday in preparation for the Steelers 2015 Training Camp.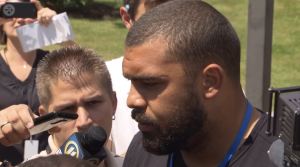 The media was there in full force documenting arrivals, holding player interviews and catching some good natured joking between teammates and coaches.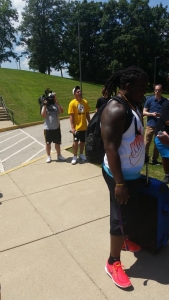 Line of the day:
Line of the day to Cam Heyward. He yelled at Steve McLendon, who was wearing a tank top "put a shirt on! No one wants to see that, Steve!" —Neal Coolong, Steelers beat writer DKonPittsburghSports.
Follow Neal on Twitter (@NealCoolong) for informative training camp coverage!
Baby Heyward 2015:
Cam spoke to the media about his new contract, training camp and about becoming a father soon. It is clear he is very excited for the arrival of his first child, and he even jokingly had a message for his wife, Allie:
Cam Heyward said his wife is due in November. If it is on game day? "I'll tell her to hold it."
Listen to Cam's interview HERE.
If you snap any photos of Cam that you would like to share, feel free to send 'em my way! Email me HERE.