Steelers 19, Chiefs 13
The Steelers took down the last undefeated team in the league today.
Cam's facial expression says it all!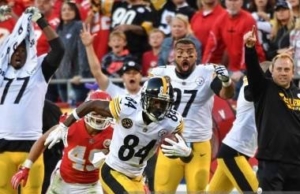 Chatter from the media:
From Ed Bouchette, Pittsburgh Post Gazette:
The Steelers delivered a knockout blow to the last remaining undefeated NFL team, holding on for a 19-13 victory.
After losing two of the past three games, the Steelers smothered Kansas City's offense in the first half and held their breath as the Chiefs mounted a comeback in the fourth quarter.
They raised their record to 4-2, alone in first place in the AFC North Division. Kansas City dropped to 5-1.
The Chiefs were poised on the Steelers' 40 when James Harrison, on third down, sacked Alex Smith back to the 48 with 58 seconds to go.
From Bob Labriola, Steelers:
What went right: Some halftime statistics: Le'Veon Bell has 99 yards rushing on 17 carries; the Chiefs have one first down, minus-2 yards rushing, 6 yards of total net offense, and their longest gain of the half was a 9-yard pass to Charcandrick West. The Steelers possessed the ball for 21:41 compared to 8:19 for the Chiefs.
From Adam Bittner, Pittsburgh Post Gazette:
Pressure contains Chiefs … for a while: The Steelers' defensive front seven absolutely dominated the line of scrimmage for most of three quarters, and really, throughout the game. Kansas City was able to get its big-play offense going in the final frame as quarterback Alex Smith was able to scramble away from intense pressure and find his receivers downfield. If this group deserves any blame, it's for failing to get home on some of those blitzes. But otherwise, those guys did a commendable job of keeping up the heat on Smith and running back Kareem Hunt, the NFL's leading rusher coming into the game.
From Dave Skretta, Associated Press:
Their defensive dominance was even more impressive considering the circumstances: The Steelers had allowed more than 200 yards rushing twice in the past three weeks, while Kareem Hunt ran for 107 yards and the Chiefs piled up 450 yards in a shootout victory last Sunday in Houston.
Kansas City rolled into the game averaging 414.2 yards and 32.8 points, but the Steelers shut down NFL rushing leader Hunt, who gained just 21 yards on nine carries. They also spent the afternoon with their paws on Smith's jersey, holding the league's top-rated passer to 246 yards and a touchdown.